THE RANCHHANDS : Chris TEDESCO's Interview
Your new CD "DRIVEN" was launched in May 2007 in France ; how would you describe it ? What does "driven" mean ?
Chris : I guess the new CD can be best described as a step forward both in music and in production.
I'm very proud of our first two CDs, but I think that we have matured and grown as a band and as individuals, and hopefully our fans will appreciate that.
The word "Driven" has several meanings (as do so many English/American words!).
Primarily, it means to be motivated, pushed, and passionate. We work very hard at what we do,
and this CD is a great example of a lot of work by a lot of people involved.

DRIVEN is your third album. We can recognize your music style, but even better. It can't be compared to anything else, that's YOUR sound, The Ranchhands sound. Can you describe it ?
Chris : It's a very high compliment for someone to say that they can identify "your" sound. Years can go by, experiences had, life changes, situations arise, but in the end The Ranchhands should have a sound that is easily identified.
Who do you look up to musically and where do your musical roots come from?
Chris : So many people. I would say that I was shaped the most by a lot of musicians in New York City. It's easy to name big famous names that everyone knows, and say that you are influenced by them, but I think that there was a bigger impact on my shaping and molding as a musician and writer from musicians and writers that I played with and went to see on a regular basis in NYC. I have some great memories of being in my early 20's, just out of university, and playing in Greenwich village (downtown NY) for practically no money, just for experience and exposure. New York has every music genre represented. From rock to jazz to country and bluegrass, it's all there. There are a few musicians who stick out in my mind from that time…Gordon Gaines (guitar player), Peter Keisewalter (piano/accordion), Vernon Ried (guitar), Hugh Pool (guitar). Songwriter Steve Tannen has been a long time friend and contemporary, and I think he is an incredible writer. Jim Lampos and Artie Lamonica are more "off-center" writers, but equally as talented.
These were the people who I played with and socialized with. We played a lot together, attended each others shows, and shared several pints of beer at 3 in the morning over the years. I grew up with a lot of musical styles, but found roots music (country, bluegrass, folk and blues) to be my favorite. Country music has been and will be my passion for many years.
Specific to the modern country music world, I remember being blown away by Brooks and Dunn when they came out. Nashville players like Mark O'Connor and Jimmy Mattingly were and still are my fiddle heroes.
Chris, You married about two years ago. How do you feel that it has influenced your music and songs ?
Chris : Most of the songs on Back Home and the first Ranchhands CD were written from personal experiences. Driven was written from most other peoples perspectives. When I was single, I feel like I had more things to write about from my own experiences. Now, I feel that I get ideas for songs from many sources. I don't know if it's directly related to being married to a great woman, or if it's the natural progression of a writer. Probably a little of both.


You are most of the time on the road. Isn't difficult to combine long tours and personal life ?
Chris : Of course I'd love to be home more often, but that is not the life of a musician. My wife comes and visits as often as possible. I hope it can work out someday for her to come to Europe, but she is also quite busy as an actress in New York and also sometimes on tour!
How does the process of writing a song work for you? Can you sit down and jot a song, or do you have to pamper it a long time ?
Chris : The process is never exactly the same. For example, Mary's Northway Diner was written (music and lyrics) in about 3 hours total. I stopped at this diner for lunch, and knew within 5 minutes of being there that I had a song ready to be written. I wrote down a bunch of ideas on my napkin while I was eating, and then continued to write words and phrases when I got back in my car. The song was finished later that night. Other songs like Back Porch State of Mind and Waiting On Forever took 2 - 3 months to fully complete. I think it's good to take a second, third and even fourth look at a song, even when I think it might be finished. In country music, all of the lyrics have to make sense and tell a story that can be understood and that people can relate to in their own lives. It's a big challenge, but I love it.

A frequent question is : do you write first words and then music, how does it come ?
Chris : it's never the same, sometimes both come at the same time.

I really love your new song "When Everything Changed". Every time I hear it, I get goose bumps, the words are so strong and Mickey's voice is so shaking. That's a very personal song, is it the reason why you don't play it in live ?
Chris : Someday we might play that song live. It's a very emotional song as you mentioned, and I do not feel that it is a good song to have in every concert.
Where did you get the inspiration to write such a great song as "Back Porch State of mind" ?
Chris : ahh, the back porch…the back porch is an attachment to the back of a house (usually in rural or suburban neighborhoods) that offers privacy and the ability to be outside. It's the place you can be relaxed and alone. The inspiration came from conversations with people who have office jobs, and would rather be somewhere, anywhere else.

Of all the songs you have written, which one are you most proud of and why?
Chris : Hard to say, I'd rather that question be answered by individual fans.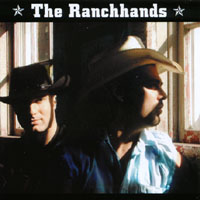 "Maybe it's me" isn't a new title ; it was on the first album of The Ranchhands band. Why did you record it again ?
Chris : We felt it was a very strong song and deserved to be recorded again with a different direction for the production, and of course with Mickey singing it. On the first CD, it was done "acoustic style" and this time it was band style, and we're very glad we recorded it again.
Well, Chris, you are a complete artist. Songwriter and bandleader, you play fiddle, acoustic guitar and do vocals. Do you think you could add other skills ? Are you also a good western line dancer?
Chris : I don't claim to be much of a dancer, that's Mickey's department!

You are so wicked awesome on stage, where do you get all that energy?
Chris : From fine French cuisine of course!

What's the best token of support or the best compliment a fan has ever given you?
Chris : Every time a fan decides to pay money for a ticket and come to our concert is the ultimate compliment

Chris, Let's talk about your fiddle. How did it come into your hands?
Chris : It came from a good friend of our family, not related. The short history of the instrument is, it was crafted by a violin/viola making family from the Bavarian part of Germany in the mid 1800's (approx. 1865). We are not sure how it made it to the US, but we do know that it was played during the early 1900's in the New York Philharmonic. I have a photo of the violin and the man that owned it at the time, and it is dated 1926. We know that the instrument was stored in an attic (top floor storage of a house) in northern Minnesota, was found, fixed up and given to my sister when she was 12. She eventually passed it along to me when I was 11, and it has been my main violin since then.
I own two others as back up instruments, but chose to always play my main fiddle. By the way, fiddle and violin are the same thing, there is no difference. We refer to it as one or the other depending on the style of music. I have played my instrument with symphonies, rock bands, country bands, and jazz groups.

Do you think you could play with an other fiddle and produce the same sound and effect on stage, or is it so unique that it is part of your talent?
Chris : I've played other fiddles, and I can personally tell the difference since all fiddles sound a little bit different. It's a combination of the feel of the instrument and the natural sound, so I would imagine the audience would be able to tell that there is something different if I used another instrument. I grew up with my fiddle, so I don't think it's possible for any other instrument to ever compare.
Did you know that:
Clint Black was born in New Jersey
Martina McBride is from Kansas
Dierks Bentley is from Arizona
Keith Urban is from Australia
Jo Dee Messina is from Massachusetts (actually, she grew up 7 miles from where my wife grew up!)
Terri Clark, Emerson Drive, Shania Twain are all from Canada
Josh Gracin is from Michigan
Aaron Tippin is from Florida
Gretchen Wilson is from Illinois
We had just as much country music on the radio as we did pop and classical music when I was growing up.
I didn't really think about what kind of music I liked when I was young, I just liked good songs I guess, and that turned out to be from multiple genres.
About 10 years ago, I played with a band that opened for Alan Jackson at a big arena in New York. When Alan Jackson introduced his band, I was amazed to find out that half of them were from Long Island NY, and Connecticut! It's actually kind of rare to meet musicians in Nashville who are actually "from" Nashville.
Both Nashville and New York are very inspiring places because there are such great players and so much talent that you are constantly surrounded by.

You first played classical music and you grew up far from Nashville; how did you turn to country music?
Chris : Country music is far from just a Nashville thing, it's nationwide. Nashville is the center of the business of country music, and therefore many country music artists reside in or around Nashville. The history of the opry and the ryman are the cornerstones of American country music. But, country music as a culture and way of life, is normal throughout the entire US.
The actual birthplace of country music is usually traced back to Bristol Virginia/ Tennessee (a town that lies right on the border of northeast TN and southwest VA) as the first recordings of this genre were done there, and the first groups came from that region. Jimme Rodgers and the Carter Family were the first recorded country musicians, and the man that went to Bristol to record them was actually from New York City !
Nashville is certainly and without question the center of the country music industry, but the artists, musicians, and music business people are from all over. I get asked often the question of "you are from New York and you play country music, why? How??"

Last summer was a very special tour in the USA : you have been back to Harbour Bay, Maine, where you came last year to write the new CD. And then you played very close to where you grew up, in Endwell. How did you felt being and playing there?
Chris : 100% awesome! I almost cant believe that we played in Boothbay, it was a good feeling to return so soon, and with a finished CD that we are proud of. It was a great process during those months when I was writing, very intense and very rewarding. I'm proud of that time period, and I'm proud of the product that we produced.
It was the first time the band has played near my hometown, and it was everything I thought it would be. Filled with friends and family, and our French tour manager saw it all with her own eyes !

What gives you the drive and inspiration every day to do what you do?

Chris : Knowing that we are being appreciated for our talents and passion.

You are so often at the Wildhorse Saloon in Nashville; do you feel at home there?
Chris : yes, it is very comforting to play at the Wildhorse. The entire staff and crew know us very well, and it's such a great environment to play in. We feel fortunate to call The Wildhorse Saloon our performance home in Nashville.
Chris, You have European origins; does your Europe attraction influence The Ranchhands career?
Chris : It might, but I never thought of it that way. Europe happened by accident. I sent our original 4 song demo to a DJ in Girona Spain (Luis Sala), and he was the one who suggested we contact a booking agent in Spain and tour. It's all Ranchhands European history from there!!
My grandparents were born in Italy, but our family kept a lot of the traditions (especially food) from Italy as part of daily life. I am born and raised in America, 100% American, but I grew up in an environment that had some European customs.
On the very first European tour, we stopped for lunch in Genoa, parked on top of a large hill that overlooked the city, and I remember having a great feeling knowing that I was looking at the birthplace of my grandfather Tedesco, and the roots of our family.
It has been 5 years that you tour in Europe : what appeals you so much here ? You are becoming more and more famous in the USA; can you imagine a Ranchhands tour without any European date ?

Chris : Europe has become part of our career, and I could not imagine it not being a regular part of our touring life and schedule. It's very special, very unique, and we are so appreciative of our warm reception that we have received over the years. Many people, who started out as fans, have become good friends. It's a great life experience

And last but not least, Chris, as an Italian food reference : you have eaten in so much pizzeria all over the USA and Europe, can you please give us your best address?
Chris : oooh, that's a secret!


Thanks a lot for this interview,
Valerie
January 2008
crédits photos : D Boulanger, V Chorier, R Lyobard