Chris Tedesco's Interview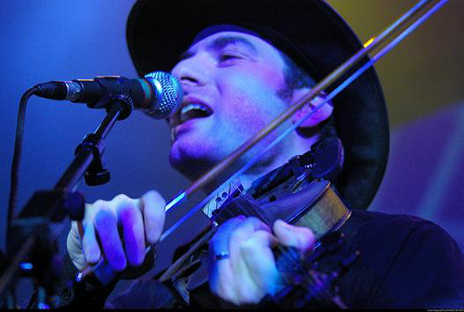 HD : Could you introduce yourself in a few words ?
CT : I am the bandleader and songwriter for The Ranchhands
HD : At what age did you decide to become a musician, and why the fiddle ?
CT : I started playing fiddle at the age of 7. My brother and sister (older) both played, and I wanted to be like them.
HD : Could you tell me the story behind the band " The Ranchhands" how the band was born ?
CT : The band started as a writing project with myself and former bandmate Jamey Garner. We made a 4 song demo, and it was very well received by many music industry people. They encouraged us to create a band. Jamey did not stay with the project very long because he wanted to pursue a solo career.
Jamey leaving turned out to be a blessing in disguise, because Mickey has added an energy and vocal style that shaped the sound and style of the band.
HD : How did you meet Mickey ? How was your first meeting ?
CT : Mickey and I met through a mutual friend named Stephanie. She was a bartender in NYC at a very big country music club called "Denim and Diamonds" (now closed). I was playing with the house band at the club, and we became very good friends. Stephanie then moved to Nashville, and became friends with Mickey. When Stephanie knew that I needed to replace Jamey, she introduced me to Mickey. We met at a bar on Broadway in downtown Nashville, and hung out for most of the evening. He played me his demo CD, and we talked about the band. I was very confident after meeting Mickey and hearing him, that he would be the perfect fit, and he is !
HD : You write most of the songs, where does your inspiration come from ?
CT : Many sources, mostly past relationships, but also from growing up in a very small town. Most of the relationships ended up in heartache, but that makes for great writing material !
As I started to write songs about "my" feelings and situations, I realised that my stories of heart break were similar to many, and putting emotions, feelings, and stories into songs that everyone could relate to became (and still is) a passion of mine.
We've all felt the unbearable pain of losing love, or finding love that is not true. We've all shut our door and fell to our knees on the floor in a fit of sadness and uncontrollable tears over love. It's human nature.
Music and lyrics has the ability to comfort people, and that is what a broken heart craves. It craves understanding, compassion, and ultimately healing. I've written many songs in this style, all truly from the heart. Then there are the times when love goes right. The best of times, the most uplifting feeling, the physical and emotional passion. These songs come from part personal experience, and part fantasy.
Last, I like to write about feelings and experiences from my childhood and growing up in a small town in upstate New York. Recently, I have been inspired to write more about this subject every time I go home to visit my parents. Everyone knows each other, everyone enjoys the good times, and suffers together through the hard times. It's 4 hours north and west of New York City, and it feels like a world away.
HD : When you write, do you begin by lyrics or music ?
CT : It changes. Sometimes is comes together at the same time.
HD : What do you prefer in your business, singing, writing or performing ?
CT : Wow, I love them all. The combination is the key. Performing tends to be the culmination of everything else, so that's probably my favourite.
I remember this past summer at a festival in French Belgium where the first 10 rows of people were all fans, and were singing along with the songs as we were performing them. That is an incredible experience, and is an ultimate compliment.
HD : You went 3 times in Europe for a tour, how do you see the development of country music on this continent ?
CT : It's growing in leaps and bounds. Each year it seems to draw more people. I'm also glad to see country music bands based in Europe having success. It seems the quality of festivals is getting better, and I hope that trend continues.
HD : Personally, what is the main difference between Europe and The States when you perform ?
CT : Sometimes there is not a big difference. First and foremost it is the language. Sometimes in Europe, we wish we spoke that native language better, so we could have more intelligent conversations with people at the concerts, or to better greet fans.
There is a bit more line dancing in Europe than there is in the states (more couple dancing like two stepping and western swing here). We have had a lot of great support from line dance groups in Europe, and have met some great people and fans, so no complaints either way !
HD : You met a great a success during your tours on both continents, How do you feel about that, Does that change something in your everyday life ?
CT : This has been a big year for us. Our success in the states has resulted in many great opportunities. It has made booking our summer Europe tour harder, because I have not had the time to work on it as much as I have in past years. Our booking agent here in the states has kept us very busy ! We will come to Europe this summer, but not sure for how long. We are still waiting to hear back from several festivals.
For our everyday life, it just means that we are much busier, and the schedule is more intense. We don't get to be home as much !
HD : How do you describe the Ranchhands style ?
CT : New, energetic country music. We want to move your heart and feet!
HD : Do you have a secret to have so much energy, in every situation, even after an international flight ?
CT : I guess it is in our personality. No secret, just a lot of passion and a thankful feeling that we have so much support in many countries.
HD : We feel a really strong connection between you, what do you like the most when you are on stage ?
CT : Smiles smiles smiles! Watching people have a good time at our concerts.
HD : You were nominated at the French Music Awards 2004 as "the international musician of the year" by the French audience, Keith Urban won. What do you think about that ?
CT : It was a great honour to be nominated for the award. A real surprise to be recognised.
That alone was award enough. Keith Urban is an outstanding musician and songwriter.
He is very deserving of the award. The Ranchhands will have the opportunity to perform with Keith this summer at a big festival in Nebraska. If I get a chance, I'll ask him about the award and introduce myself as one of the other nominees.
HD : What are your musical influences ?
CT : Mark O'Connor (fiddle player), John Cougar Melloncamp, Johnny Cash, Tim McGraw, Journey, Stephane Grappelli
HD : If you could meet anyone, dead or alive, and ask them a question, who would it be ?
and which question would you ask ?
CT : I would like to meet Amadeus Mozart. I would have so many questions I wouldn't know where to start.
HD : How do you see the future of the Ranchhands ?
CT : Very bright ! We will continue to work hard and smart, and do what we love.
HD : What is your personal philosophy ?
CT : Appreciate life and the ones you love.

Thank you and see you soon.

HD : What would your fans be most surprised to know about you ?
CT : Despite my height, I am a very good basketball player.
HD : What would you like to do in your life that you have never done ?
CT : Visit all 7 continents (I've only been to two)
Interview : Hélène Dagorn
February 2005